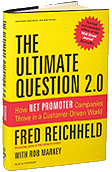 After presenting the ultimate question and net promoter score, explaining how to exploit the results and finalizing the feedback loop with the client, I will address in this third article other possibilities for using these different concepts. Indeed, once the principle understood, the possibilities are infinite, as your imagination is the only limit 😉
I propose in this article three other cases to apply the approach and measure the satisfaction rate.
Internal clients satisfaction
To start with, we could be interested by internal customers. Of course they are captive of their suppliers, but here's how it could look:
On a scale from 0 to 10, what is the probability you would recommend our department to a collegue? Why?
A translation service, travel booking, events organization, human resources, will have an explicit feedback on the service provided. Just because customers are internal does not mean that they should not be satisfied. If a manager is dissatisfied with the HR service of recruitment assistance, he or she might bypass HR for his or her next staffing. And human resources policies may not be respected.
When a company embarks on a journey of continuous improvement and strives for operational excellence, all sectors must contribute. This tool can also be used by manufacturing companies to deploy lean in offices: do the plans provided by engineering satisfy internal customers? Is the procurement process producing detractors or promoters?
Employee satisfaction towards their employer
In an internal approach, we can study what employees think of their employer. Each company seeks to attract the best people and limit turnover. The Employee Net Promoter Score is a good indicator for this purpose. Not only does it indicate employee satisfaction and loyalty, but also the main factors contributing to a good employee experience:
On a scale of 0 to 10, how likely are you to recommend to a relative to apply in our company? Why ?
Here you are with a good source of information on the engagement of your employees and the causes. It remains only the most complicated step to succeed: analyze the data, find the root causes and set up the action plans. With a survey one to four times a year, depending on the speed of the actions, you should see the impact of your actions on the indicator. The survey can also be given one or two months after the arrival of new employees.
And for each of us: satisfaction of our colleagues and clients
Finally, the net promoter score can be applied from a personal point of view. I work in a private sector company. This company has customers, but I do not serve directly. However, I use the same approach with my clients. My clients are simply my co-workers, to whom I deliver documents, I give advice, I provide services. I always make sure I have a maximum of promoters. And I work to reduce my rate of detractors. How?
Like all businesses, I seek to give my clients an experience that goes beyond expectations. So, when I'm asked for a cake, I try to add a cherry whenever possible! Providing a good cake makes my colleagues passive. If I want promoters, I need to provide more than just a good cake. Even without having an accurate indicator, this mode of operation is very related to operational excellence, we also find this concept in Agile also.

With strong competition, it is no longer enough to satisfy customers, we must go beyond their expectations to delight them.
In my next article on the subject, I'll talk about good and bad profit. This is one of the key keys in root cause analysis.